About the Artist
Each of us has a passion: that inexplicable something we feel compelled to do no matter what. Something that makes us happy just in the doing of it. Something that makes our souls sing. For me, that passion is painting.
From my first formal classes at age 8, there was never a time in my life during which I wasn't drawing or painting. Perhaps my most fulfilling art experience was in my senior year of college which I spent in Madrid, Spain. I studied privately with Spanish artist Luis Azcárrate, sketching and painting in parks, cafes, or in an attic studio in picturesque Old Madrid.
For over twenty years, I have continued taking art classes at the Virginia Museum Studio School. There I have had the pleasure and privilege of studying under several widely respected Virginia artists, including oil painting with Eleanor Rufty and Laura Loe, watercolor with Anne Chenoweth, and monotype with Mary Holland.
My passion for painting and exploring artistic possibilities continues. I still feel a childlike delight in watching as a blank sheet of paper or canvas transforms from nothingness into a wonder of colors and shapes, shadow and light. To me, creating art borders on the spiritual. As I paint, the hours pass dreamily and quickly. In those moments, painting becomes a form of meditation -- something that quiets my mind and feeds my soul.
"Follow your bliss", Joseph Campbell once said. So with tubes of paint and paintbrush, I passionately continue to pursue my own artistic bliss. I hope my artwork somehow sparks inspiration in others and serves as a reminder to all of us to revel in the beauty that surrounds us and to appreciate the wonder in each moment.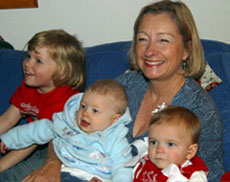 Proceeds from Sallie's art sales have benefited multiple charitable organizations, including: